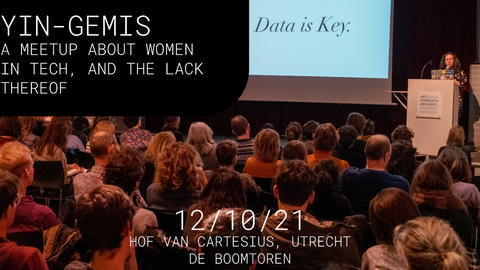 Meetup Yin-Gemis; A meetup about women in tech, and the lack thereof
As of 2021, the tech industry continues to be a highly male-dominated environment. Although more and more women are employed in the industry, there's still only a small portion of tech-related jobs performed by women. This significant lack of diversity in the industry can lead to products and services that are not inclusive for society. 
In the meetup on October 12th, we will be giving the floor to artists and researchers investigating this problem and turning their insights into impactful experiences and art projects to achieve a more diverse and inclusive tech-industry. The meetup borrows its name from one of these projects.
More info: https://fb.me/e/10e6W3t9x
| | |
| --- | --- |
| location | Hof van Cartesius, Vlampijpstraat 94, 3534 AR, Utrecht |
| Price | €5,- regular / €3,50 student |