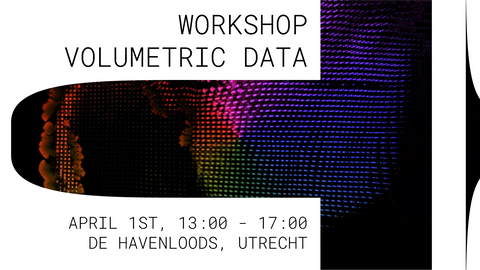 Workshop Volumetric Data
During the workshop Volumetric Data, you will learn how to use the Kinect to create a Point Cloud within Touchdesigner. We will explore different types of effects, tools and means of interaction with which you can create cool interactive installations.
This is a workshop for beginner Touchdesigners, no prior experience is needed to join.
📅 April 1st, 13:00 - 17:00

📍 De Havenloods, Utrecht

🎫 €40 (regular) / €20 (student, U-pas)
👨‍💻 The Artist
Carolien Teunisse is an Utrecht based visual media artist, researcher and educator. With her work she aims to discover interesting dialogues that occur between different types of media, merging realities and between humans and technology by using projection- and sensing devices to create installations, immersive experiences and performances. Besides creating work she is also passionate about passing knowledge and skills on to others, ranging from children to professional creatives.
She is a member and co-founder of DEFRAME, a collective of visual artists whose focus lies on audiovisual installations and live visual performances.
👉 What is TouchDesigner?
TouchDesigner is a software product and visual programming language that can be used to create interactive 2D and 3D applications in real-time during performance
👉 What is Kinect?
Kinect is a motion sensor produced by Microsoft. The motion sensor is able to capture your body and movements which you can use as input for TouchDesigner.
🔧 Practicalities
You are required to bring your own laptop with TouchDesigner installed. If this an issue feel free to get in touch with us at ticketing@creativecodingutrecht.nl. The workshop will be in English.
This is a workshop for beginner Touchdesigners, no prior experience is needed to join.
But it can be helpful to already get a bit of a hang of the basics: https://www.youtube.com/playlist?list=PLFrhecWXVn5862cxJgysq9PYSjLdfNiHz
| | |
| --- | --- |
| Start | 1 Apr 2023, 11:00 |
| End | 1 Apr 2023, 15:00 |
| location | The Havenloods, Nijverheidsweg 6, 3534 AM, Utrecht |
| Price | €40 (regular) / €20 (student, U-pas) |