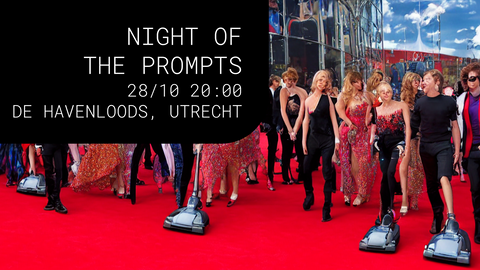 Night of the Prompts
In the past year, several AI models like Dall-E2 and Stable Diffusion have been made available for the public. These models generate image from text, resulting in stunning results. This technology is already quite advanced, but also results in alienating experiences – we'll see, for example, no real faces, but AI's impressions of a face. An important aspect of this technology is how to structure the prompt (the text that generates the image). Small changes in these texts can have a large impact on the resulting image, so one needs to develop some fingerspitzengefühl for proper prompting. Luckily, results are shown within seconds, which allows you to learn this quickly.
In this meet-up, we'll dive deeper in the world of prompting. Join us to show your own prompting experiments, or witness those of others, for example those of Sergio Pinheiro, Ronald Boom, or Sietse van der Meer. The floor is open to ask all your prompting-related questions, for discussion and to test new ideas.
| | |
| --- | --- |
| Start | 28 Oct 2022, 18:00 |
| location | The Havenloods, Nijverheidsweg 6, 3534 AM, Utrecht |
| Price | Pay-what-you-like |