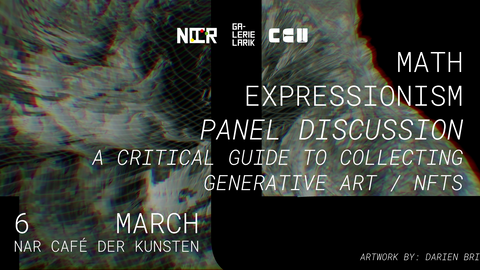 Math Ex Closing Panel Discussion
Researcher Inte Gloerich does research on the culture of the blockchain. She'll dive into the forming principles of crypto. She'll critically reviews the promises of decentralisation and privacy that blockchain technologies should provide. How do these principles and promises manifest in NFT space? To which promises do you invest when buying an NFT?

Math Ex approaches NFTs through the lens of creative coding. As CCU's mission is to stimulate digital creativity we are especially focused on the principles of generative art and design. How can we understand creative processes when part of the creative process is delegated to machines? What is the role of the artist? Marissa Memelink will introduce her framework on analyzing and comparing generative art that give us a new perspective on how to tackle these questions.
| | |
| --- | --- |
| location | NAR cafe der kunsten, Nijverheidsweg 6, 3534AM, Utrecht |