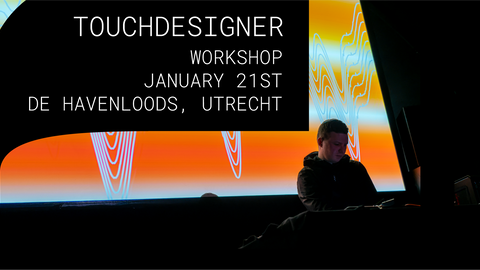 Masterclass Audiovisual composition in TouchDesigner with Grigory Gromov
Our new monthly workshop series kicks off with a TouchDesigner masterclass by Grigory Gromov! Whether you want to add compelling visuals on stage during your concert or project a moving backdrop onto your interpretive dance show, TouchDesigner has something for everyone. This masterclass will give you the tools to start experimenting within your own practice and create synergetic audio/visual performances.
📅 January 21, 13:00 - 17:00

📍 De Havenloods, Utrecht

🎫 €40 (regular) / €20 (student, U-pas)
What is TouchDesigner?
TouchDesigner is a software product and visual programming language that can be used to create interactive 2D and 3D applications in real-time during performances. You can read more about it here: https://derivative.ca/UserGuide/TouchDesigner
What will we do?
During the masterclass Grigory will dive into the use of TouchDesigner to create breathtaking visuals that vibrate and resonate with the playing audio. How can you create colours, shapes and dynamic movements that respond to sound? How do you create harmonic performances that stimulate and wow your audience?
These are some of the topics that will be discussed:
Synchronisation of TouchDesigner with Ableton Live

Harmony of the senses in the creation of audiovisual work

Visual emphasis of musical accents

Interaction of sound with color, shape, depth and dynamics
The Artist
The masterclass is hosted by new media artist Grigory Gromov. Watch his performance during the ART MACHINES Festival here: https://www.instagram.com/p/CmZBX9vo-7f/
Grigory Gromov is an artist in the field of new media in the direction of audiovisual art. The purpose of his work is to study the human perception of audiovisual compositions and sound works. He uses different methods of extracting and creating sounds and noises for his sound compositions, from algorithmic computer systems to recording environmental sounds. Sound and visual medium are the environments in which Grigory works, so most of the time in his work is spent on sound experiments and studying the features of musical acoustics, creating a common context between visual and sound medium and creating audio-reactive generative graphics.
Practicalities
The masterclass takes place at De Havenloods, Utrecht on January 31st from 13:00 - 17:00. You are required to bring your own laptop with TouchDesigner installed (available at https://derivative.ca/UserGuide/Install_TouchDesigner). However, if this an issue feel free to get in touch with us at info@creativecodingutrecht.nl. The workshop will be in English.
Info for beginners:
The masterclass is accessible for beginners, but we recommend you get familiar with TouchDesigner beforehand. You may watch these two introductory tutorials → https://derivative.ca/UserGuide/Tutorials
and read Josh Baptistas absolute beginners guide → https://medium.com/@joshbaptista/touchdesigner-for-absolute-beginners-a-simple-primer-project-151acd9754ed
Install TouchDesigner here → https://derivative.ca/UserGuide/Install_TouchDesigner
Laptop specs
Windows 8.1 / Windows 10 / Windows 11
Video RAM 1GB +
Nvidia GPUs
- GeForce 800 Series or better
- Quadro K Series or better
- Nvidia Driver 472.47 or newer
AMD GPUs
- AMD HD 7000 Series or better
- AMD W or V Series or better
Intel Integrated GPUs
- Intel 500 and newer GPUs (not the 5000, 6000 series)
- Not all features are supported on Intel's integrated GPUs
| | |
| --- | --- |
| Start | 21 Jan 2023, 12:00 |
| End | 21 Jan 2023, 16:00 |
| location | The Havenloods, Nijverheidsweg 6, 3534 AM, Utrecht |
| Price | €40 (regular) / €20 (student, U-pas) |