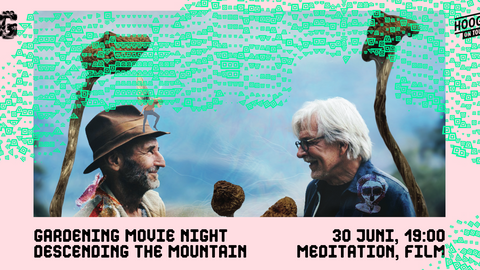 Movie night: Descending the Mountain
How can a shift in consciousness support us feeling one with nature?
Exhibition GARDENING emphasizes how we are intertwined with nature. During this evening we will explore how psychedelics can impact collective healing and feeling one with our environment via talks, discussions, embodiment exercises and screening of documentary Descending the Mountain (2021). We invite you to have dinner with us at restaurant De Veldkeuken beforehand.
Artist and educator Camille Barton will start with an introduction about psychedelics and the shift in consciousness they can cause, explaining how this shift can also be generated with embodiment work. To give us an experiential sense of this shift in consciousness, they will lead (optional) embodiment exercises.
Next, we will screen the dreamy documentary Descending the Mountain (2021), directed by Maartje Nevejan. This film is about what a shift in consciousness caused by psychedelics can teach us about the mystical experience of oneness with nature.
Afterwards, Camille Barton and Maartje Nevejan will have a Q&A, and we will close the evening with a collective exercise: everyone is invited to share their thoughts on the influence of psychedelics on collective healing.
About the speakers
Camille Barton is an artist and educator who explores creative interventions that sustain life. Rooted in Black Feminism, ecology and harm reduction, they use creativity as a means to grow the more beautiful world our hearts know is possible.
Maartje Nevejan is an award-winning independent filmmaker (based in Amsterdam), with a background in theatre and multimedia. Her work researches and expresses the raw poetic quality of reality. She brings together unexpected groups of people, from all walks of life – holding & inspiring their often-contrary views into unexpected forms of creativity.
About Descending the Mountain (2021)
78 min. // in English & German // Dutch subtitles
What happens if you give magic mushrooms (psilocibine) to experienced Zen practitioners who have never used drugs? What does that teach us about the mystical experience of oneness with nature? Based on these questions, psychiatrist Franz Vollenweider and Zen master Vanja Palmers set up a legal science experiment in a monastery at the top of Mount Rigi in Switzerland. Exactly 50 years after the magic mushrooms were officially banned, a new story begins in what is now called the "psychedelic renaissance". While in 2021 most studies with psychedelics mainly focus on their promising medical applications, Frans and Vanja are already going a step further. Can the combination of meditation and psilocibin help humanity get out of the mess we have created on ourselves and the planet with our neo-liberal society?
Practical information
When:             June 30

Time:              with dinner 17:30-21:00, without dinner 19:00-21:00

Where:            De Veldkeuken, Koningslaan 11 A 3981 HD Bunnik

Fee: Without dinner €12,50

Dinner reservations: You can reserve dinner by e-mailing amelisweerd@veldkeuken.nl or calling 030-7610877. Additional price for
dinner: €20,- paid at location.
Disclaimer
Nothing consumed during this evening is psycho-active and although some experiences may create a shift in consciousness, you will at no point be under the influence of any drug or substance.