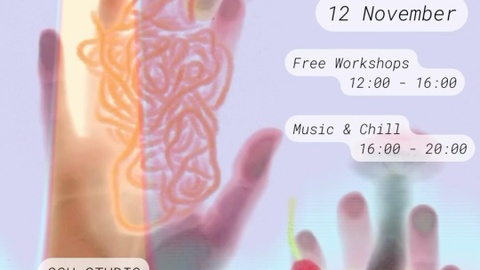 Full Spectrum Chillout
✨ Prepare to be enchanted!
📅 Save the date for Sunday, November 12th, from 12:00 to 20:00, at the captivating CCU Studio at Hof van Cartesius, in Utrecht. This event is part of Y? at Het Hof van Cartesius, and the perfect accompaniment to the LeGuessWho music programme!
🌟 Immerse Yourself in the Magic
Delve into the captivating world of magic mushrooms, explore the art of microdosing, and surrender to the spellbinding sounds of live electronic music and mesmerizing visuals. Get ready to be transported to a realm of extraordinary experiences, where curiosity knows no bounds.

🌈 Workshop Programme (12:00 - 15:45)
🍄 Masterclass Magic Mushrooms by Rein van der Woerd: Delve into the enchanting world of magic mushrooms with a masterclass led by the renowned Rein van der Woerd.
💎 Workshop Micro Flora Jewellery by Jamie Nee: Get creative and craft your own micro flora jewelry under the guidance of the talented Jamie Nee.

🎶 Live AV Programme (16:00 - 20:00)
🔮 Artist T.MO performing "Prism": Witness the mesmerizing fusion of art and music with T.MO's performance of "Prism"
🍟 Katpatat: Let the vibes of Katpatat wash over you as they take you on an auditory journey like no other
🎤 Ephemeral Lunchbox: Experience a 30-minute live performance by Ephemeral Lunchbox that will leave you spellbound
🎧 Ambient sets by Fafi & Niklas Vaggh: Enjoy ambient sets accompanied by entrancing visuals from Artemis & Sasj
This day promises an otherworldly experience you won't want to miss. No reservations needed – just bring your curiosity and an open heart, and let the Full Spectrum Chill-Out take you on a journey like never before. 🍄💫
| | |
| --- | --- |
| Start | 12 Nov 2023, 11:00 |
| End | 12 Nov 2023, 19:00 |
| location | CCU Studio, Vlampijpstraat 84, 3534 AR, Utrecht |
| Price | FREE |