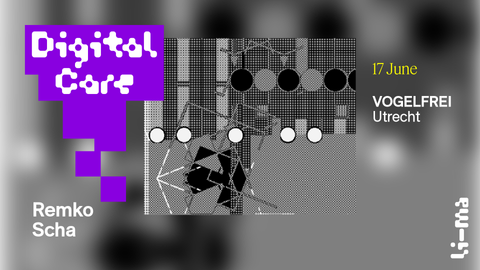 Digital Care: Remko Scha
On 17 June, LI-MA links up with Creative Coding Utrecht and VOGELFREI to present the re-coded works of Remko Scha's Artificial. These works will be displayed as part of Digital Care: Remko Scha IAAA ReCoding Artificial.
In May, this group of artists will re-code Scha's Artificial. The original work by Scha consists of a series of aleatoric art generation programs created throughout his career. The artists will come together in a pressure cooker, and will take Scha's Artificial as a starting point to create (a) new work(s). What will happen if we take the concept and technology of a pioneering work from the past, and look at them from today's perspectives? The group will work out new ideas to create prototypes of works that will be displayed at VOGELFREI.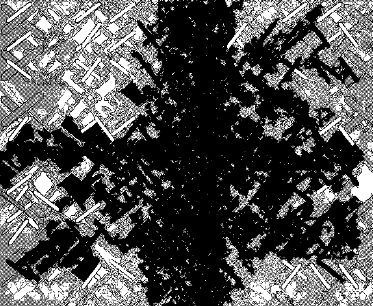 Remko Scha, Artificial
In previous re-coding projects, Creative Coding Utrecht took the same approach: inspiring a new generation of makers through the work of a Dutch pioneer in Media Art. Last year we worked with Edwin van der Heide to re-code his work Speed of Sound. In one weekend, guided by Van der Heide, a group of young makers worked on the concept of (audio) feedback. This resulted in three sound installations that were displayed at Art Machines 2022, a festival about art, technology and music.
This autumn, LI-MA and Nieuwe Instituut will present REBOOT. Pioneering digital art, an exhibition at Nieuwe Instituut. Remko Scha's Institute of Artificial Art Amsterdam (IAAA, 1990-present) is part of this exhibition. Leading up to this exhibition, some of the iconic artworks will be explored and contextualized within a collaborative trajectory entitled Digital Care. Digital Care works will highlight some of the works and take them as a starting point to inspire novel reflections, or re-coding. Amongst them Artificial by Remko Scha (1945-2015), one of the works that he made as part of IAAA.
About the speakers
Jos de Bruin
Jos de Bruin first met Remko in the late seventies, at a gathering establishing the first AI society of The Netherlands, which perhaps was a bit premature as there were at most a dozen people working on AI in The Netherlands at the time. In 1984 Remko and Jos together moved to BBN Labs, USA, one of the major AI research centers at the time, where they worked on natural language processing. When they returned to The Netherlands, they went their separate ways for a couple of years but in the mid-nineties they started to collaborate again, on artificial art and design. They did a number of joint exhibitions around the artificial program, and Jos implemented various applications of the artificial approach to architecture, graphical house styles and the design of vases. They did joint research on automatic data visualization and lately on models of child language acquisition. When Remko became ill, Jos organized several exhibitions around The Machines, a group of fan motors, electric drills and electric sabre saws playing electric guitars by means of rotating strings, rotating metal brushes, vibrating metal bars and vibrating ropes.
Hein Eberson
From 1992 to 1999, Remko Scha worked with visual artist and designer Hein Eberson on Artificial. Eberson produced exhibitions of Artificial in Artis Den Bosch, Galerie Rian van Rijsbergen Rotterdam, Gallery Acud Berlin and Voges & Deisen in Frankfurt and a performance in Zaal de Unie. Together they published the principles of Artificial in Computer – Language (Mediamatic volume 6 no. 2/3, 1991). Eberson also compiled the publication Artificial (1993), with texts by Remko Scha, Dirk van Weelden and Peter van Emde Boas, among others.
Werner de Valk
Werner de Valk (1988) has a background in neuropsychology, IT and media art (Gerrit Rietveld Academy). He works on the borderlines between art, technology and psychology. At Creative Coding Utrecht, a community driven platform stimulating digital creativity, he is program and project manager. As an artist, he creates films focusing on nature, the absurdity of the mundane, and sound. As a sound artist he develops interactive installations, and translates field recordings into soundscapes.
Sanneke Huisman
Sanneke Huisman (1985) is trained as an art historian, and works as writer, critic and curator with a focus on media art. She is co-editor of A Critical History of Media Art in the Netherlands: Platforms, Policies, Technologies (2019). At LI-MA, she is active as a curator; recent projects include Cultural Matter (2017-2020), Digital Canon of the Netherlands (2017-2019) LIMA Online (2020-2021) and Mediakunst op Wikipedia (2021-2023). Together with Klaas Kuitenbrouwer (Nieuwe Instituut) she is currently co-curator of REBOOT. Pioneering digital art. Furthermore, she writes about contemporary art for magazines and exhibition catalogs, including Metropolis M and Centraal Museum Utrecht, is a guest lecturer and works as an advisor at Creative Industries Fund NL and Cultuurloket DigitALL.
| | |
| --- | --- |
| Start | 17 Jun 2023, 17:30 |
| End | 17 Jun 2023, 20:00 |
| location | VOGELFREI, Nijverheidsweg 6, 3534 AM Utrecht, 3534 AM, Utrecht |
| Price | €7,50 regular / €5,- discounted |