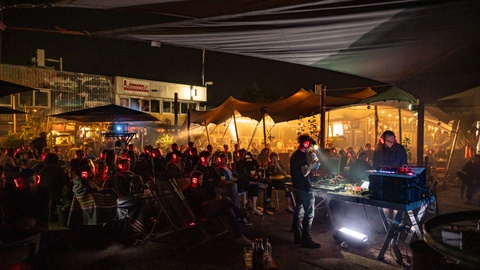 Cultuurterras Weekender w. Uncloud, Modulation & CCU
The first weekend of September, Uncloud Festival, Modulation., and CCU join forces for a two day programme filled with electronic music and immersive performances at Cultuurterras De Nijverheid. 
On Saturday September 4th, we will have a selection of amazing artists performing experimental electronic music mixed with theatre and audio-visual performances by Bakah, Bodyscan 223, Diogo Carriço, Timo Hoogland, and Skander Jaïbi & Jaco Schilp. 
On Sunday afternoon, there will be a live painting in creation while we enjoy the chill- and spacy vibes of Ambient and Drone music by Dubberdink & Cathy Daniëls, Allert Aalderes, and Skander Jaïbi, priming us for a Modulation concert at night with Jerome Mardga, Dennis Weijers, and Mieke van Dam.
So join us during Cultuurterras #8 for immersive performances and mesmerizing mellow tunes! Tickets will be sold at the door.