Meetup Yin-Gemis; A meetup about women in tech, and the lack thereof
As of 2021, the tech industry continues to be a highly male-dominated environment. Although more and more women are employed in the industry, there's still only a small portion of tech-related jobs performed by women. This significant lack of diversity in the industry can lead to products and services that are not inclusive for society. In the meetup on October 12th, we will be giving the floor to artists and researchers investigating this problem and turning their insights into impactful experiences and art projects to achieve a more diverse and inclusive tech-industry. The meetup borrows its name from one of these projects. More info: https://fb.me/e/10e6W3t9x
Tickets: ccu.stager.nl/web/tickets/111117329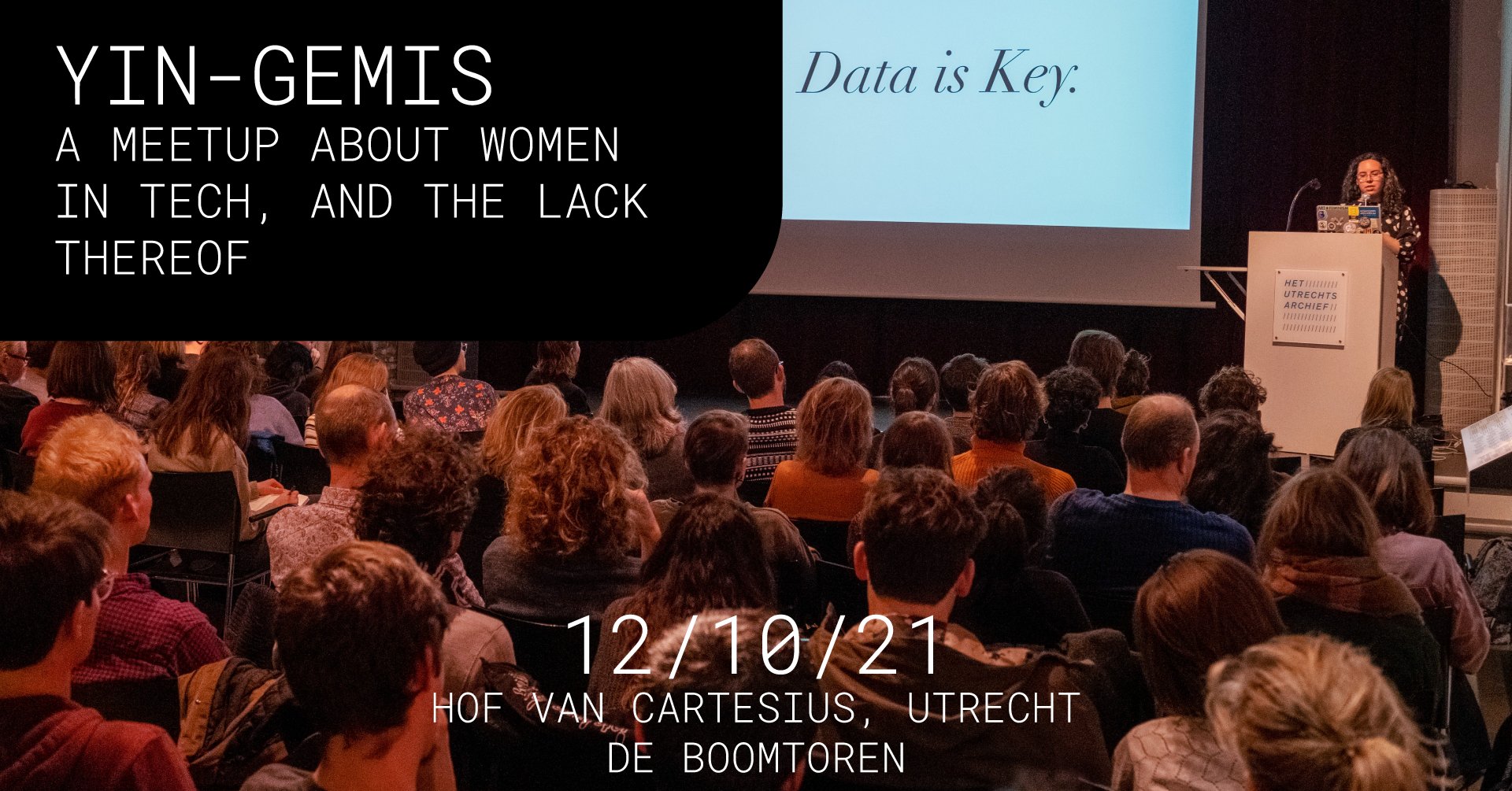 Programme: Yin-Gemis Meetup Speakers
https://gaudeamus.nl/en/events/electronica-for-lovers-day-2/alg0ma5/
Gaudeamus
Gaudeamus, Creative Coding Utrecht and NL_CL present ALG0MA5: a concert in which you see digital creativity enriching the practice of composers, instrument builders and musicians with new possibilities. Brazilian composer and hardware hacker Rafaele Andrade shows the versatility of her hybrid instrument KNURL; a hybrid cello with 16 strings made of durable material and built-in electronic components. Thanks to the electronics the audience can influence the sounds of the instrument live during the concert. Musicians and artists Jonathan Reus, Sabrina Verhage and Anne Veinberg & Felipe Ignacio Noriega on the CodeKlavier will give a demonstration of this. The programme is framed by three performances by live coders from Barcelona, ​​Karlsruhe and Ljublijana who belong to the European collaborative project On-The-Fly.
Cultuurterras Weekender w. Uncloud, Modulation. & CCU
The first weekend of September, Uncloud Festival, Modulation., and CCU join forces for a two day programme filled with electronic music and immersive performances at Cultuurterras De Nijverheid. On Saturday September 4th, we will have a selection of amazing artists performing experimental electronic music mixed with theatre and audio-visual performances by Bakah, Bodyscan 223, Diogo Carriço, Timo Hoogland, and Skander Jaïbi & Jaco Schilp. On Sunday afternoon, there will be a live painting in creation while we enjoy the chill- and spacy vibes of Ambient and Drone music by Dubberdink & Cathy Daniëls, Allert Aalderes, and Skander Jaïbi, priming us for a Modulation concert at night with Jerome Mardga, Dennis Weijers, and Mieke van Dam. So join us during Cultuurterras #8 for immersive performances and mesmerizing mellow tunes! Tickets will be sold at the door.
AI HACKING: Adversarial Attacks - Meetup & Workshop
August 26 and 27, CCU organizes a meet-up and workshop about Artificial Intelligence (AI) and its weakness to 'Adversarial Attacks'. During an adversarial attack, the AI vision is misled by adding visual noise to images, leading to malfunctions in the system. During the meet-up, we will be joined by experts in the field to talk aboutt. During the workshop led by Javier Lloret Pardo, we will have an introduction to Adversarial Attacks applied to images and we will explore code examples that implement different adversarial techniques. This workshop will also propose a space for dialogue and discussion around the subject.
Opening The Overkill festival - BBB_ performance + algorave
With the ominously relevant theme 𝙏𝙃𝙀 𝙀𝙉𝘿 𝙊𝙁 𝙏𝙃𝙀 𝙒𝙊𝙍𝙇𝘿 𝘼𝙎 𝙒𝙀 𝙆𝙉𝙊𝙒 𝙄𝙏, Overkill Festival is happening from the 27th of November to the 6th of December. It is a playful event hosting a great variety of digital culture, fully taking place online. ..and we'll be there! Some of our finest live coders will be bringing beats and visuals to the algoraves of the Overkill Festival, such as: 𝘌𝘹𝘰-𝘵𝘦𝘳𝘳𝘪𝘴𝘮, 𝘈𝘭𝘦𝘹𝘢𝘯𝘥𝘳𝘢 𝘊á𝘳𝘥𝘦𝘯𝘢𝘴, 𝘔𝘢𝘭𝘪𝘵𝘻𝘪𝘯 𝘊𝘰𝘳𝘵𝘦𝘴, 𝘙𝘢𝘤𝘩𝘦𝘭 𝘥𝘦 𝘭𝘢 𝘛𝘰𝘳𝘳𝘦, 𝘑𝘰𝘦 𝘒𝘳𝘰𝘦𝘴𝘦, 𝘛𝘪𝘮𝘰 𝘏𝘰𝘰𝘨𝘭𝘢𝘯𝘥, 𝘐𝘳𝘪𝘴 𝘚𝘢𝘭𝘢𝘥𝘪𝘯𝘰, 𝘙𝘢𝘮ó𝘯 𝘊𝘢𝘴𝘴𝘢𝘮𝘫ó This workshop is made possible by funding from Stimuleringsfonds Creative Industrie (Creative Industries Fund NL) More info: Facebook Event
Live Coding In Mercury (free & online)
During this free workshop, split into three online sessions, you will learn how to code beats, synthesizers, and generative music with the Mercury live coding environment. This is a free online workshop! We will be sharing a zoom-link to join on Wednesday. Please let us know if you're joining us by hitting the 'going' button on the event page , so we know who and how many of you are coming. This workshop is made possible by funding from Stimuleringsfonds Creative Industrie (Creative Industries Fund NL) More info: Facebook Event