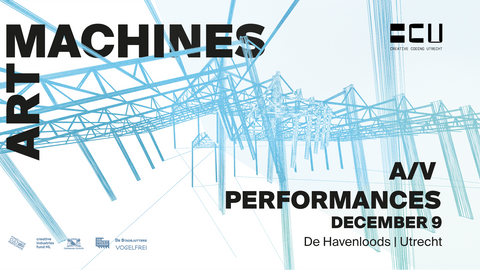 9 December: A/V Performances
There's been an important change in the schedule for tonight. Due to the football match of The Netherlands vs. Argentinia we decided to start the AV Night two hours later. Everyone with tickets is welcome to join us at 8PM to watch the football match on the big screen at VOGELFREI, and then at 10PM for the AV Night at VOGELFREI.
New time table:
8PM - 10PM Football match on the big screen
⁠10PM - 12PM AV Night
Every time warp needs a good soundtrack: get ready to be transported through the (digital) ages. Immerse yourself in the virtual, neo-romantic worlds created by Digitaloser, feel the beats of past and future merge in the techno-funk performance by Grigory Gromov, and watch Lars Bijleveld's performance inspired by disk fragmentation and data storage algorithms.
Date: Friday 9 Dec
Time: 20:00 - 22:00 Watching Football match, 22:00 - 00:00 AV Performances
Location: De Havenloods, Utrecht -> VOGELFREI
Tickets: €15,-
Ticketlink: https://ccu.stager.nl/artmachines/tickets
| | |
| --- | --- |
| Start | 9 Dec 2022, 19:30 |
| End | 9 Dec 2022, 22:00 |
| location | The Havenloods, Nijverheidsweg 6, 3534 AM, Utrecht |
| Price | €15,- |